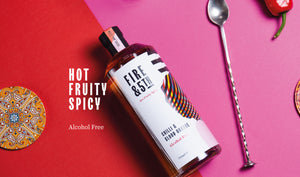 WHAT IS FIRE&5TH?
Fire&5th is a non-alcoholic spirit alternative that is designed to recreate the heat & kick of alcohol.
It's all about allowing you to make the most of every moment by proudly offering a different choice and a new experience.
Fire&5th is not mimicking Whiskey, Gin, Rum or Vodka. In fact, it does its own thing and it's cool with that. It doesn't want to stand in anyone's shadow or just accept things the way they are, but instead, stand on its own two feet to deliver a new and exciting experience that just so happens to be alcohol free.
LEARN MORE ABOUT INGREDIENTS & PRODUCT
WHAT'S HAPPENING @ FIRE & 5TH
---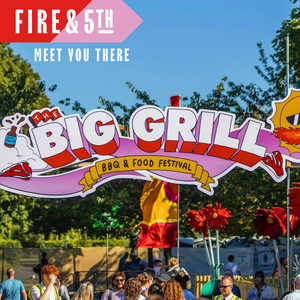 Amazing alcohol free cocktails by the Fire&5th team at the 2023 Big Grill Festival in Dublin.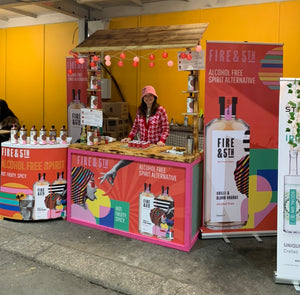 Check out some footage of Fire&5th at the MAF festival in Smithfield Dublin in March 2023!
On Friday November 4th, Fire&5th featured on the Late Late Show - Ireland's biggest and the world's 2nd longest running talk show. Right okay, we weren't at the show - but where...
THE FIRE&5TH SERVE
At Fire&5th we believe life is more enjoyable when you do you! And that's true for your choice of drink as well.
We just happen to think that Fire&5th is best enjoyed 50ml over ice with Ginger Ale and garnished with an orange slice.
Some even say to really experience the Fire&5th kick, it's best accompanied with a Ginger Beer.
But hey, you do you, and drink it however the hell you want!
Click Here For More Cocktails & Serves
Where to Find Us!
Fire&5th is available online here on our website and in South Dublin SuperValu stores as part of the Food Academy programme. We're also available in a range of independent stores in Dublin. Check out our full list of stockists by clicking on the link below.
Check out our stockists here
Supported by The Local Enterprise Office
Fire&5th has been supported by the Dun Laoghaire Rathdown Local Enterprise Office.